Life in the Atomic City of Visaginas
Visaginas was once a lively city in the northeast of Lithuania, built to house the workers at one of the most powerful nuclear power plants in the former USSR. Now, as many have left to find opportunities elsewhere, it's a shadow of its former self. But the city is being rediscovered by Lithuanian youth, hoping it could become a tourist attraction or a thriving hub.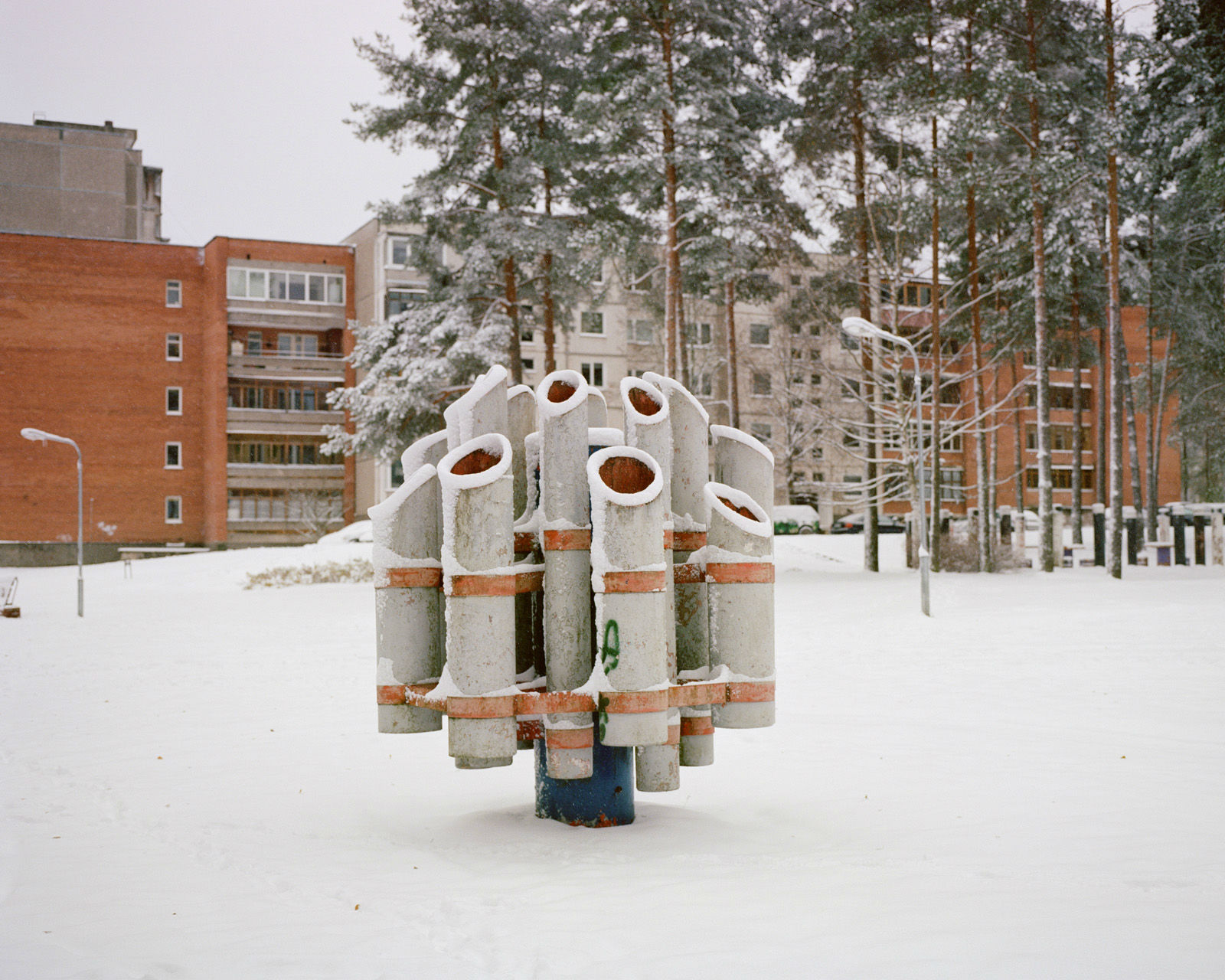 VISAGINAS – There's a reason that the young people of Visaginas call themselves "atomic." In 1975, the city was specially built to house workers at the Ignalina Nuclear Power Plant. At the time the plant had the world's most powerful reactors, and produced so much electricity that it was honoured by the Guinness Book of Records.
Situated among a pine forest on the shore of Visaginas lake, the city was designed to coexist in harmony with nature. The first street was named Vilties ("Hope" in English). Once a vibrant, modern city inhabited by engineers and other qualified specialists from all around the Soviet Union, now Visaginas has a very different feel.
The streets and rectangular concrete buildings look empty. The city of Visaginas lost its main source of energy, income and jobs all at once when the nuclear power plant was shut down. Its closure was one of the key conditions for Lithuania's membership to the EU: unsurprising considering its reactors were of the same type as the ones housed at Chernobyl. Around a third of the city's population have emigrated in the past 15 years, leaving Visaginas with fewer than 20,000 people. From a bird's eye view the city looks like one half of a butterfly; the other half was never built. Nevertheless, the remaining residents' feelings of melancholia and sadness are tinged with hopefulness.
"Visaginas has a lot to offer, it just needs to find a face, a vision," says Alex Urazov, a 33-year-old who was born in Russia but grew up in Visaginas. After living in England for a few years, he moved back to Visaginas for good: "Apart from working and partying, I had nothing to do abroad. I wanted to make a difference."
"Apart from working and partying, I had nothing to do abroad. I wanted to make a difference."
Bringing the world closer
Alex heads an art residency called "Tochka" ("Dot" in English) with the goal of encouraging young people's creativity, curiosity and tolerance. Tochka's office, which occupies part of a five-storey building, is ill-lit and chilly for the sake of saving on utilities. Some people draw on the walls, others read, engage in heated conversations or simply drink hot tea. Every evening a different event takes place, from open mic nights to film screenings. No alcohol is allowed on the premises, and the only music comes from vinyl records – these are Alex's rules. Other than that, everyone is free to do as they please.
No matter how cold it is, Alex is always barefoot and dressed in a sleeveless t-shirt with his tattoos on display, his long blonde hair is always in a ponytail, and he is always smiling.  A former anarchist now engaged in studying human behaviour, self-searching and craft-making, he thinks Visaginas is a very provincial city. "Everyone hates it when I say this, but it's true," he says. "I want to bring Lithuania and the world closer to Visaginas." In his view the young people of Lithuania are also very disconnected from their parents, who still see the world from a soviet point of view.
Most young people choose to leave Visaginas for opportunities in more flourishing cities in Lithuania or abroad. Many leave just after school and the lack of employment opportunities and low wages do not encourage them to come back.
In 1975, the city was specially built to house
workers at the Ignalina Nuclear Power Plant.
An Economic And Psychological Hole
The closing of Ignalina was a huge shock to Visaginas. During its 'golden age' in the mid-1980s, with one active reactor and two more in construction, more than 13,500 people worked at the plant. Everyone was young, educated and enjoyed good salaries. After quitting time, a vibrant city life awaited the workers, while happy children were brought up with stories about nuclear fuel systems instead of fairytales.
The plant completely stopped producing electricity in 2009. By then, thousands had lost their jobs. Many went back to Russia or left for other countries. Around 2,000 people remain at the plant, maintaining and dismantling it.
"Imagine you build a house, put your heart into it, live there, and then you have to destroy it with a bulldozer. That would be hurtful," says Jevgenij Shuklin, a 31-year-old sportsman and city council member. His father moved to Visaginas from Ural, Russia, to build the plant. "Everybody has already packed their suitcases," he adds. "And sometimes I tell them: you need to renovate your apartment. And they answer: 'Why bother? I might need to leave soon.' And this has been going on for 10 years."
Jevgenij made the decision to stay in Visaginas several years ago after realising a dream – winning a silver medal in sprint canoeing at the 2012 Olympics in London. "You can't live like this – without a vision, thinking that everything is bad," says Jevgenij. "The biggest problem people face here is digging themselves into a psychological hole. They need to appreciate what they have."
"I want to change the system… Visaginas has everything, it just needs help."
Visions for Visaginas    
It was 2:30am on the night of 14 August 2012 when Jevgenij returned to Visaginas after the official 'welcome home' celebration for Olympic medallists in Vilnius. Hundreds of people, in spite of having to go to work the next day, turned out to give Jevgenij a hero's welcome. "We became like a big family," Jevgenij remembers. "That was when I said to myself: 'I will stay here and give back to these people.' I will do whatever it takes to improve their lives."
Jevgenij splits his time between his professional athletic career, managing a couple of local restaurants, an intense social life both in Visaginas and Vilnius (more than two hours away by car) and serving on the council of Visaginas. With eight other young professionals he formed the "Visaginas Is Us" initiative, which now holds a majority in the city's main political body.
"I want to change the system," Jevgenij explains. "Visaginas has everything, it just needs help." Politicians in Vilnius, he believes, could offer their assistance in attracting investors and encouraging companies to expand by introducing a free economic zone in Visaginas, or corporate tax concessions. He envisions Visaginas as a new Lithuanian IT hub.
"It's high time to invite them here. IT specialists from Ukraine or Belarus are leaving their countries and moving to Europe. It would be easy for them to integrate here." More than 80% of Visaginas' residents are not Lithuanian, instead comprising some 42 different nationalities – including Russians, Ukrainians, Belarusians, and Poles among others.
The rowing base, which is currently under construction, is another of Jevgenij's projects. Sport has always been a big part of the city: rowing, kayaking, football, boxing, gymnastics, acrobatics – all available for children to start practicing from a very young age. Not surprisingly, many choose professional athletic careers. 99% of the children in Visaginas engage in at least one extracurricular activity like sports, music or the arts: a record in Lithuania.
"Some people complain to me: 'We voted for you, we want bigger pensions'," Jevgenij says. "But this is out of my hands. I am not a magician." 84% of the city's budget goes on sport, culture and informal education, which is not common in Lithuania. "This is why, for example, we have good kindergartens with swimming pools, which are free of charge, and we can't take take this away because people are used to free education," Jevgenij says. And this investment bears fruit.
"I think 80% of people who left Visaginas will come back to raise children here. There is no better place," says Sergej Gluchov, a 33-year-old who recently moved back from Vilnius to Visaginas with his wife. They bought a three-bedroom apartment for 12,500 euros, ten times cheaper than they would find in Vilnius, and feel finally at peace being back home.
The city of Visaginas lost its main source of energy, income and jobs all at once when the nuclear power plant was shut down.
"Nobody would say I'm Lithuanian here"
"Everybody thinks that it's a village in the corner of Lithuania with only Russian-speaking people," Jevgenij says, describing the misconceptions he thinks people have about Visaginas.
Visaginas' young people seem to be disappointed by the way Lithuanian media portrays the city. According to them, news reports have been politicised to show Visaginas as a potentially separatist region, campaigning to follow Crimea's lead and join mainland Russia.
"Many young people from Visaginas chose to serve in the Lithuanian army as volunteers," Jevgenij says. He believes deeds for the country's sake speak louder than a Russian last name. When asked about his own identity, Jevgenij says he first and foremost is a citizen of Lithuania, even though it is difficult for him to say whether he is Russian or Lithuanian.
The question seems to be a tricky one for many. "In Russia they tell me I have a cute accent and that I am Lithuanian," Sergej says. "But nobody would say I am Lithuanian here. You hear how I talk." Sergej understands Lithuanian, but does not feel comfortable speaking the language.  
Twice a month, Sergej hosts an 'intellectual entertainment' game which attracts dozens of participants to a local pizzeria in Visaginas. "I love people here. They are very open. When I organise these games, I look at people's faces and they are smiling. Whatever happens in Visaginas – good or bad – everybody sticks together."
In Vilnius, Sergej felt like he did not matter. In Visaginas, he is happy to be getting more and more invitations to contribute to the future of the city he chose to believe in.